FAQs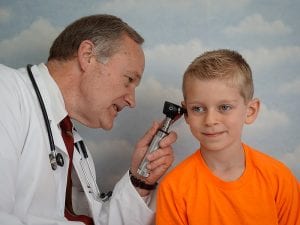 A pediatrician is a medical doctor who specializes in the care of children. Pediatricians have undergone specialized training in the health and illnesses of infants, teens, and young adults. All of our pediatricians are certified by the American Board of Pediatrics, after passing a comprehensive exam, completing 4 years of medical school and 3 years of hospital and clinic training.
Pediatricians provide preventative healthcare for children in good health and medical care for children who are acutely or chronically ill. They also provide parents with support and advice with issues such as growth and development, safety and prevention, nutrition, and emotional wellness to foster a lifetime of good health.
What insurance plans do you accept?
We accept most major insurance plans. Call 910-484-3121 to find out if your insurance is currently being accepted by our practice.
What if I have a question and you are closed?
We have 24 hour phone coverage. So, if we are closed and you have a concern, you are able to call our office at 910-484-3121, and a free-of-charge Carelink triage registered nurse will be available to address your concerns.
How often should my child see a pediatrician?
Newborn, and within 2-4 days of hospital discharge
1 month
2 months
4 months
6 months
9 months
12 months
15 months
18 months
24 months
After 2 years of age it is important that your child see a pediatrician for a yearly wellness visit to assure that your child is growing and developing appropriately.
How can I get my child's prescription refilled?
You can get a prescription refill by calling 910-484-3121 and leaving a voice message on the appropriate nurse's voicemail. Be sure to include child's name, date of birth, medication that you are looking to be refilled, as well as the correct call back number.
I am delivering at Cape Fear Valley; how do I notify the hospital that I have chosen your office to use as my child's pediatrician?
Notify admissions at labor and delivery that you have chosen Fayetteville Children's Clinic to care for your newborn.
Can I meet my pediatrician before my baby is born?
Absolutely! We offer prenatal appointments to learn about our practice as well as meet which doctor you pick to care for your child.
What happens if my child is not feeling well but I am not sure if he/she needs to see a doctor?
Our registered nurses are available throughout the day to speak with you at 910-484-3121 and are able to triage patients based on symptoms provided by you. If needed, the nurse is able to make an appointment for your child to see one of our doctors or can give advice on care for your child at home.