Cough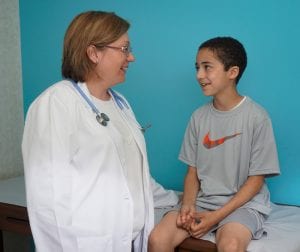 Cough is a normal and important reflex of the body. It helps us clear the airway and keeps us from breathing things into the airways and lungs that could cause problems.
Occasional cough is normal, but sometimes it might be a symptom of an illness or another serious condition. A cough can be "wet" if a child b rings up mucus or "dry" if she does not.
Frequent causes of cough:
Infections of the airway, including the common cold.
Object being stuck in an airway.
 Asthma
 Lung problems that some children are born with.
 Coughing out of habit (this cough usually goes away when the child is asleep)
 Exposure to cold or smoke.
The common cold:
Caused by a virus
Usually mild and self-limiting
 Symptoms usually peak on day 2-3 of illness and gradually improve over the next 7-14 days. (longer course in younger children)
 Cough is a symptom of the common cold, may linger in some children for 3-4 weeks.
 Young children may have 6-8 colds a year on average.
When your child needs to see a doctor:
He has blue or dusky color to lips, tongue or face.
She has trouble breathing, has noisy breathing, or fast breathing.
Cough after choking on food or another object, even if choking has happened days or weeks ago.
Coughing up blood, or yellow or green mucus.
Has a fever and not acting himself
Refusing to drink anything for a long time
Vomiting with cough
Cough for 2 weeks and not getting better
Younger than 4 months of age
How you help your child's cough:
Have your child drink plenty of fluids (warm fluids may work better)
Use a cold mist humidifier in their room. Clean it frequently. Hot water vaporizers are not recommended due to the risk of serious scalds or burns.
Stay with your child in a steamy bathroom while running a hot water
May give honey to children 1 year of age and older, half to 1 teaspoon (straight or diluted in liquids)
Cough drops or lozenges for children 4 years and older
Yearly Flu vaccine for children aged 6 months and older
What to avoid:
Over the counter cold and cough medications in children under 6 years of age due to risk of adverse reactions and likely not being helpful.
Aspirin in children younger than 18 years of age due to potential of serious liver complications (Reye Syndrome)
Treatment of cough:
Supportive care for viral infections. The best prescription for a cold is patience.
Antibiotics for bacterial infections
Steroids and bronchodilators like albuterol to open up the airway.
Bronchoscopy to look for and remove an object stuck in someone's airway.
Cough suppressants can be prescribed rarely, usually in older children.